The HARLEY-DAVIDSON® RIDING ACADEMY NEW RIDER COURSE is designed to get you comfortable on a bike and give you the skills you need to ride with confidence. In the classroom, you'll get to know the motorcycle you'll be riding and  learn the basics of rider safety skills. On the practice range, you'll learn braking, turning, and maneuvers like controlling skills, quick stops and U-turns.
Riding Academy Coaches
Bill Harley
RiderCoach
Hello all. My name is Bill Harley. I have been riding some type of motorized two-wheeler since I was about 10 years old and that was a few years ago! Back in 2012 fellow RiderCoach Greg persuaded me to complete the MSF Basic RiderCoach training program and the Harley Davidson Rider's Edge Instructor course. I'm sure glad I accepted this challenge as the initial part of this training had us students successfully completing the Basic Rider Course. The Basic Rider Course greatly improved my rider skills and my safety awareness while operating a motorcycle. I now frequently use my motorcycle to travel to northern Wisconsin and to tour outside the state during the riding season. It is my firm belief that the Riding Academy Basic Rider Course can build your confidence and skills allowing you to safely ride a motorcycle. Whether you are a never ever or have been riding for years, the BRC can help you. And, a word to those of you on the high side of forty; you can teach an old dog new tricks. Been there and done that
Brad Bauman
RiderCoach
I have been riding motorcycles for more than 30 years having started out on dirt bikes and eventually graduating to the street. My first Harley was a Fat Boy and since then I've had Sportsters, Softails, hardtails, Shovelheads,Dynas, baggers and my list is still counting...I got into touring a few years ago and have done a few of the "popular" rides like Sturgis, Tail of the Dragon, the Tomahawk Fall Ride and absolutely loved it. A couple of my riding friends encouraged me to get into Coaching and it's been a great experience. My passion has always been motorcycles and I enjoy sharing that with others in any capacity. Coaching allows me to do my part in making motorcycling safer for everyone; I can honestly say Coaching has changed the way I ride, my overall outlook on motorcycling, and even how I drive my car.I look forward to seeing you out on the range!
Dee Dee Sorg
RiderCoach
I didn't want to be 80 years old and wonder "what if I'd learned how to ride a motorcycle, what would my world look like?" It was that decision that pushed me to buy my first motorcycle, a Harley-Davidson Sportster. I put 11,000 miles on that bike my first summer. I was so interested in the program that I became the Rider's Edge Program Manager at Sauk Prairie Harley-Davidson. I worked with coaches on the range, "kicked cones" and watched and learned how they took brand new riders and turned them into qualified motorcyclists.
There were important people in my life that led me to pursue becoming a coach. I've been teaching over 10 years and have met thousands of passionate future riders, some of which I call my friends to this day.
The common theme among people who sign up for the Riding Academy is the pursuit of the dream of riding a motorcycle safely. All of our coaches work really hard to help make those dreams come true. This is a safe learning environment, using a building block approach to learning m
Doug Randall
RiderCoach
My name is Doug Randall. I've been enjoying life on two wheels since I got my first taste 27 years ago. In 2003 I took the Experienced Rider Corse with my newly acquired Harley-Davidson Road King. Not only did this improve my riding, it also changed my career path. I've found teaching in a variety of models helps me to have a better more diverse perspective on life and in the class environment. I've been teaching since 2004 and started the program here at Sauk Prairie Harley-Davidson in 2006. Helping people realize their dreams of riding and being safe on the road has been a passion ever since.
Greg Schaub
RiderCoach
I have been riding motorcycles since "Let It Be" was the number one song on the Billboard top 100 and have been involved in safety education and training since Ronald Reagan was sworn in for his first term as President. More importantly, I have been a certified MSF/Rider's Edge/H-D Riding Academy Coach since 2009. In that time I have had the opportunity and the pleasure to coach students with diverse levels of experience, from having never been on a motorcycle to having ridden for years. All come to class with the same goal in mind: to develop the skills to ride safely, correctly, and legally. Regardless of the level of experience students may have on the first night they always take positives away from the Riding Academy training; it may be developing overall confidence, correcting bad and dangerous habits, learning to corner correctly or developing the initial skills to be able to get on their own bike and ride. What I enjoy about the H-D Riding Academy is even though we have a schedule, our class size is s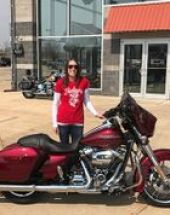 Jeri Buckingham
RiderCoach
My husband and I purchase our first Harley-Davidson in 2006, I rode as a passenger a few times and shortly after that, I realized that I wanted to ride my own. I took the motorcycle safety course and that is when the obsession started. I purchased my first motorcycle, a Sportster 1200 Custom. Many motorcycles and many miles later, I now have 2 Harley-Davidson Street Glides and

I am a Riding Academy Coach. I am very passionate about riding and feel that being a Rider Coach is a way for me to encourage and empower others to purse their dreams about becoming a safe rider.
Kim Lengfeld
RiderCoach
For many years it was just a dream, but it became a reality when my friend said "Next time we take this trip you're riding your own motorcycle!" Now I can say it is a true passion, borderline obsession. I completed the Rider's Edge course at Sauk Prairie Harley-Davidson in 2007 and a month later we left on a trip headed to the Tail of the Dragon in North Carolina. Since that time I've averaged 10,000 miles a season and have ridden in over 25 states in the U.S. I started teaching the Basic Rider Course in 2012. The best part about coaching is meeting all of the people that share the passion of riding a motorcycle!
Marc Schilling
RiderCoach
I've always had an urge to ride motorcycles and in 2003 I bought my first motorcycle and completed the MSF Beginner Rider Course at WCTC to receive my motorcycle endorsement. My wife took her first longer distance ride on that bike (Honda Shadow) and the next riding season we purchased a Harley-Davidson® Ultra Classic. After 10 years of tour riding (many group rides) I decided I'd like to teach others how to ride safely. In May 2013 I became MSF Certified Instructor and in June 2013 I became a Rider's Edge Instructor. I'm looking forward to meeting new riders who will become safe, skilled riders.
Phil Neidner
RiderCoach
I completed the MSF RiderCoach Certification at MATC in May of 2006, afterwards became certified by Harley-Davidson® as a Rider's Edge RiderCoach and have been one of the many RiderCoaches at the Dealership ever since. I started riding motorcycles as a teenager when I borrowed a friend's Yamaha 175 Enduro. After my wife completed the Rider's Edge Beginner Rider Course, she talked me into taking it! Sure glad I did! Up until 2004 I was self-taught, making self-mistakes! Who says you can't teach old dogs new tricks? Practice! Become a smarter, safer and more skilled rider. We'll show you how; it's up to you to make it happen! Enjoy!
Shari Huppert
RiderCoach
My first motorcycling experiences were as a passenger when I was in high school. After college, I did a lot of riding on the back of a bike, but I grew tired of being a passenger. I wanted to be in control of the motorcycle.

In 1989 I took the MSF Beginner Rider Course, got my motorcycle endorsement and bought a 700cc Honda Shadow. I can't express how much the Beginner Rider Course helped me. Not only did I become a safer motorcycle rider, but I also gained a lot of confidence in myself and my riding abilities.

I have been a Rider's Edge® Rider Coach since 2004. My passion for motorcycling is very high, and I hope to pass that, along with the ability to ride safely, onto you.