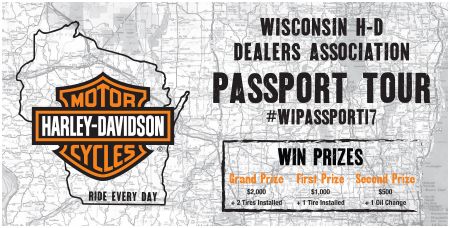 The Passport Tour begins April 1, 2018 and runs thru October 31, 2018.
Riders may pick-up their free Passport booklet at any Wisconsin H-D Dealers Association Members. Some Dealers may no longer have any remaining booklets - supplies were limited. Only one Passport per rider is allowed.
Only Passports with stamps from at least 10 dealers are eligible for the prize drawing. All Passports must be turned in to a participating dealer no later than close of business on October 31, 2018. Passports can be returned to any participating dealer.
Completed Passports will be entered in a random drawing to win prizes.
Winners will be announced November 14th, 2018 on www.wiharleydealers.com
April Drawing Winner

Bobbi K.

May Drawing Winner

Brittany U.

June Drawing Winner

Tristan H.

July Drawing Winner

Chuck G.

August Drawing Winner

Ron O.

September Drawing Winner

Teressa C.





October Drawing Winner