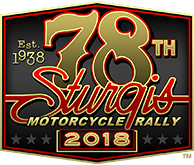 (Original article by Rick Barrett, Milwaukee Journal Sentinel ; Published/Updated Aug. 10, 2018 at 6:01 p.m.)
Sturgis, S.D. – Tessa Otto has put about 8,000 miles on her Harley-Davidson Street Glide this summer, and she's being paid to do it.
The University of Wisconsin-Oshkosh senior is one of eight college students getting paid to ride motorcycles, and document their experiences, as Harley-Davidson summer interns.
This week, Otto rolled into the Sturgis Motorcycle Rally on her twisted-cherry-colored bike, named Fiona. It's practically brand new, a perk from the internship, and she gets to keep it when the summer's over.
Her dad, Greg Otto, came to Sturgis on his 1995 Harley Electra Glide, which has about 50,000 miles on it.
He and Tessa made the trip from Wisconsin together.
"Tessa's bike definitely has a little more oomph to it. If she hammered on the throttle, I probably couldn't keep up with her," Greg said.
For the full story, visit Milwaukee Journal Sentinel.